While sport bikes are often considered unsuitable for beginners, these models provide slightly lower power while retaining their thrilling performance.
Unlike driving a car, riding a motorcycle requires a bit more courage. The absence of any protection besides your riding gear can be intimidating. However, there's a significant advantage to embarking on the open road on a bike: you get to experience an incredible sense of freedom and connect with the road on a deeper level.
For beginners venturing into the realm of sport bikes, selecting the perfect one can be a daunting task. With a plethora of choices offered by renowned manufacturers such as Kawasaki, KTM, and Yamaha, it can be overwhelming to find the ideal fit for your requirements. This revised compilation presents the top 15 sport bikes specifically tailored for beginner riders, taking into account factors like affordability, user-friendliness, and performance. Prices have been sourced from JD Power and respective manufacturers.
Selecting the right sport bike for your initial riding experience is crucial to laying a solid foundation. It's essential to find a bike that suits your individual needs and preferences. Opt for a bike that offers manageable control and enables you to progress gradually towards more powerful and advanced models.
While there is a wide range of sport bikes to choose from, not all of them are suitable for beginners. Selecting the right bike can be challenging, but by identifying your needs and preferences as a beginner rider, you can make an informed decision. Here are 15 top recommendations for beginner-friendly sport bikes that combine performance and ease of use.
KTM RC 125 – $6,036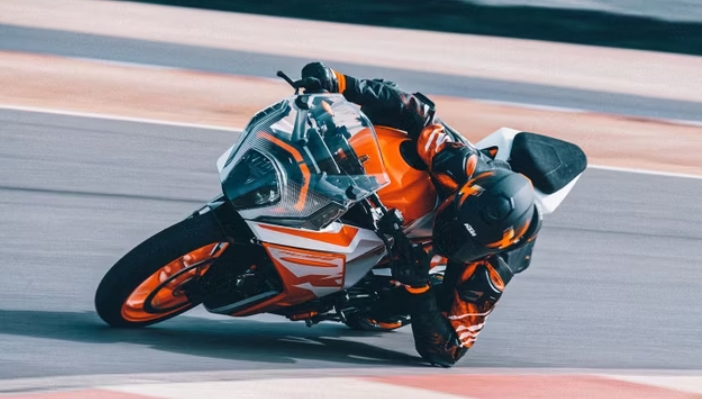 With its redesigned chassis, enhanced maneuverability, and sleek MotoGP-inspired design, the KTM RC 125 stands out as one of the top choices for beginner sport bikes. Whether you're riding on the street or the track, this motorcycle offers an impressive experience that can make beginners feel like professional racers. Its combination of performance, handling, and eye-catching aesthetics makes it an excellent option for those starting their sport bike journey.
Drawing inspiration from the KTM RC16 racer, the RC 125 incorporates distinctive design elements that mirror its high-performance counterpart. Its ergonomic features and captivating color options further enhance its appeal. KTM has also introduced an innovative ultra-lightweight framework, combining a trellis frame with a bolt-on subframe. This engineering choice reduces the weight of the current RC 125 by over 3 lbs compared to the previous generation, resulting in improved stability at high speeds and an enhanced riding experience overall. Powering the RC 125 is a reliable 15 hp 125cc single-cylinder engine, which has undergone refinement in engine mapping to deliver increased torque and a seamless, powerful performance.
Aprilia RS 125 – $6,300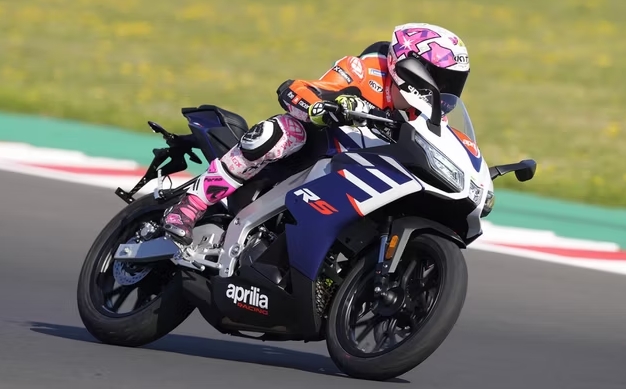 Renowned as the epitome of stylish sport bikes tailored for novice riders, the Aprilia RS 125 continues to captivate with its thrilling features. This two-wheeler guarantees an exhilarating adventure, courtesy of its redesigned aesthetics and cutting-edge technology. The RS 125 showcases a distinctive and eye-catching design, complemented by an upgraded engine and state-of-the-art motorcycle components. These enhancements not only make it a standout performer on the road but also elevate its performance on the racetrack, offering riders an extraordinary riding experience.
With its Euro 5-compliant engine, exceptional chassis, and rider-friendly ergonomics, the RS 125 stands out as the perfect choice for beginner sport bike enthusiasts. Drawing inspiration from its esteemed counterparts, this model incorporates captivating styling elements that deliver the same exhilarating experience on the streets. Its powerful motor, combined with a comfortable riding position, ensures an adrenaline-fueled ride that will leave riders craving for more.
Kawasaki Ninja 300 – $5,299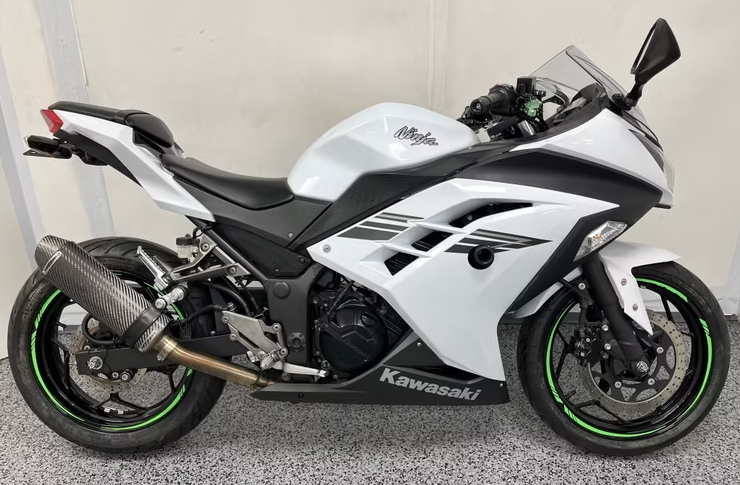 When compiling a list of the finest sport bikes in history, it is impossible to overlook the dominance of Kawasaki. Renowned for their extensive and remarkable sport bike lineup, the Japanese brand caters to diverse riding preferences. From the mind-boggling speed of the Kawasaki Ninja H2R, reaching a jaw-dropping top speed of 212 mph, to the beginner-friendly option we highlight today, the Kawasaki Ninja 300, they offer an array of choices to suit every rider's skill level.
Kawasaki's Ninja 300 has earned its place as an iconic motorcycle due to its exceptional combination of performance, affordability, and fuel efficiency. With its lively engine and agile handling, the Ninja 300 delivers an exhilarating riding experience that is both enjoyable and responsive. It stands out as an excellent choice for everyday riding as well. The Ninja 300 is offered in two variants: one equipped with ABS and the other without. Despite the slight distinction, both models are remarkably lightweight, ensuring a user-friendly experience for new riders. Powered by a 296cc engine producing 34.95 horsepower and 18 lb-ft of torque, the Ninja 300 offers more than sufficient power for beginners to master their riding skills.
Yamaha YZF-R3 – $5,299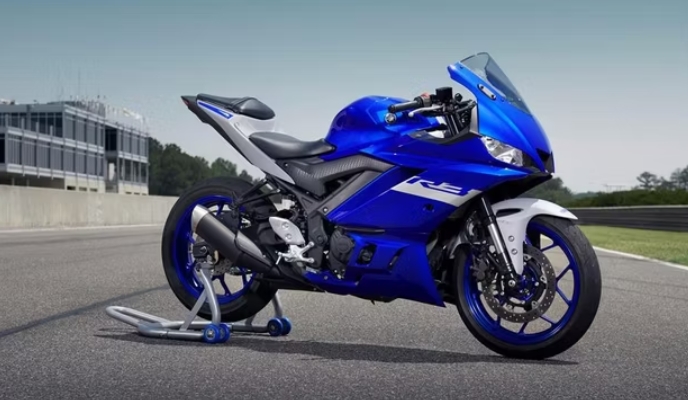 Yamaha, a respected name in motorcycle manufacturing, is known for producing top-quality Japanese bikes. The YZF-R3 stands out as an exceptional Yamaha motorcycle, offering a compelling option for riders in search of a bike that balances ease of handling for beginners with ample power for more experienced riders. The Yamaha YZF-R3 is a lightweight and agile bike that is not only beginner-friendly but also delivers impressive performance and reliability. Don't underestimate its capabilities based on its classification as a beginner bike. The YZF-R3 packs a punch, thanks to its advanced forged piston design that enhances overall performance and provides an exhilarating riding experience. Additionally, this bike is designed for easy maintenance, ensuring a hassle-free ownership experience for riders of all levels.
For novice riders, having a comfortable seat that offers control and stability is essential. The Yamaha YZF-R3 excels in this aspect with its well-designed flat seat, providing an even weight distribution and allowing riders to firmly plant their feet on the ground when coming to a stop. This feature enhances confidence and control, particularly for beginners. The Yamaha YZF-R3 strikes a perfect balance between sportiness and affordability, making it an excellent choice for riders who seek both thrilling performance and a budget-friendly option.
Kawasaki Ninja ZX-25R – $6,650
If you're seeking a sporty and dynamic motorcycle to kickstart your riding journey, the Kawasaki Ninja ZX-25R could be the perfect choice. Despite being in production for a relatively short period of three years, the Ninja ZX-25R has quickly gained a reputation as one of Kawasaki's most sought-after motorcycles. Its distinctive design and impressive performance make it a popular option among motorcycle enthusiasts.
The Kawasaki Ninja ZX-25R stands as a remarkable representation of a compact motorcycle that delivers impressive power. Setting itself apart from its class, this bike features a unique inline-four engine, renowned for its exceptional performance. With a 250cc capacity, the ZX-25R showcases a spirited nature, emphasizing its big bore characteristics. Its liquid-cooled engine generates a remarkable 43.5 hp and 15.6 lb-ft of torque, achieved through the implementation of a high-spec ECU based on the renowned ZH2 platform.
Suzuki GSX250R – $4,999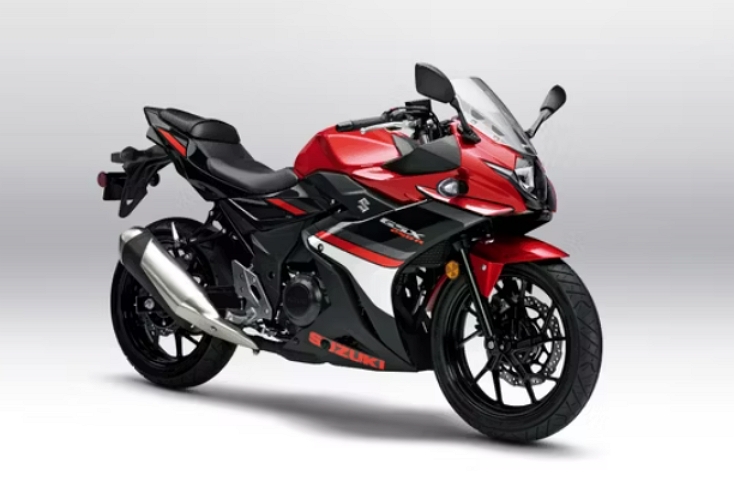 Designed to deliver exhilaration and riding pleasure, the Suzuki GSX250R is a sport bike that combines thrilling performance with reliability. With a focus on providing an enjoyable experience for beginner riders, Suzuki has crafted the GSX250R with captivating styling, intelligent performance, and comfort features that cater to a diverse range of enthusiasts. Whether it's the engaging design or the satisfying ride, the GSX250R is built to bring fun and excitement to riders of all levels.
Setting itself apart from its rivals, the GSX250R from Suzuki stands out as a street sport bike that is welcoming and accessible to riders of all levels. Its low seat height, lightweight construction, and sleek fuel tank contribute to its approachable nature. The GSX250R delivers a delightful combination of responsive and manageable performance, agile handling, impressive fuel economy, and a comfortable riding stance. Powering this bike is a reliable and easily maintainable 248cc parallel twin engine, capable of producing 24 horsepower, ensuring a satisfying and spirited ride.
KTM RC 390 – $5,549
When it comes to beginner-friendly motorcycles, KTM is a brand that excels, and the RC125 is a prime example. However, for riders seeking a bit more power while still desiring easy handling, the RC 390 is the ideal option. The 390 series presents a compelling combination of performance and versatility, featuring both the naked Duke variant and the faired RC version. Since its introduction in 2013, the RC 390 has garnered a loyal following. Despite its single-cylinder 373cc engine, this bike delivers an impressive amount of power and excitement.
Similar to its rivals, the RC 390 boasts a lightweight design, making it highly maneuverable, particularly for novice riders. Notably, in 2017, KTM made a significant improvement to the bike's handling by upgrading the front disc brake to 320 mm. This enhancement enhanced its overall performance and control. The RC 390 proudly showcases KTM's iconic orange color scheme, adding a bold and vibrant touch to its sporty appearance. With its eye-catching aesthetics, the RC 390 is sure to capture attention wherever it goes.
Hyosung GT250 – $4,199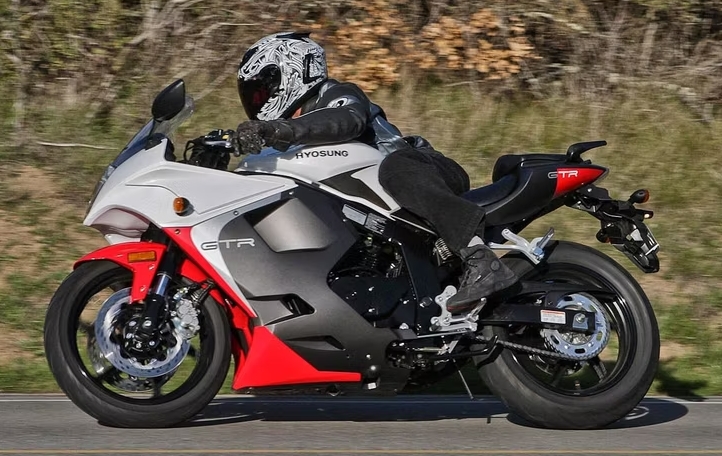 Korean motorcycle manufacturers, such as Hyosung, have made remarkable strides in the industry, challenging the dominance of their Japanese counterparts. The Hyosung GT250 is a testament to their commitment and ambition. Since its introduction in 2005, the GT250 has gained widespread recognition, appealing to both new and experienced riders alike. Powering this Korean gem is a robust 249cc four-stroke V-twin engine, featuring air/oil cooling, DOHC, and eight valves. With its impressive specifications, the GT250 showcases Hyosung's dedication to delivering a high-quality riding experience.
Equipped with dual front disc brakes, the Hyosung GT250 offers exceptional stopping power, ensuring a safe and controlled ride. Despite its visually appealing design that resembles larger displacement motorcycles, the GT250 is surprisingly lightweight when you delve beneath the surface. This attribute, combined with its well-curated set of features, positions the GT250 as an excellent choice for beginners seeking a sport bike that strikes the perfect balance between performance and maneuverability.
Honda CBR650 R – $9,899
Honda's CBR650R challenges the notion that the 600cc class is exclusively for experienced riders, as it is designed to provide a secure and enjoyable experience even for beginners. With its 649cc transverse inline-four engine, the CBR650R delivers a responsive, well-balanced, and smooth performance, making it an exceptional option for a sport bike in its class. Similar to the Yamaha R7 and Kawasaki Ninja 650, the CBR650R strikes a perfect balance with its maneuverability, lightweight construction, and sheer riding pleasure, appealing to riders of various skill levels.
Honda has continuously enhanced the CBR650R, and its recent suspension upgrade has taken the riding experience to new heights, whether on the streets or the track. While four-cylinder motorcycles may be less prevalent in today's market, the CBR650R stands out as the ideal choice for riders who have a deep appreciation for the joy of riding. Its exceptional performance and thrilling dynamics make it a bike that truly caters to enthusiasts and those who seek a heightened level of riding enjoyment.
Yamaha YZF-R7 – $8,999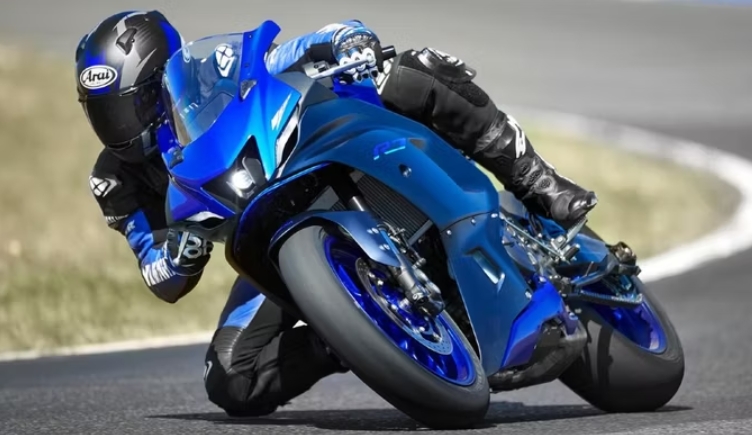 With Yamaha's renowned CP2 engine and cutting-edge design, the R7 represents a new era of sport bikes. Its sleek and lightweight chassis sets it apart, enabling the bike to deliver impressive torque for exceptional performance on both the street and the track. The R7 embodies Yamaha's commitment to innovation and thrilling riding experiences.
The R7 stands out with its unique and slender dimensions, setting it apart from other bikes in the R-Series lineup. These proportions contribute to its exceptional agility and effortless maneuvering on winding roads, as well as its confident performance when cornering on the track. Concealed beneath the sleek fairings lies a reliable 689cc liquid-cooled engine, delivering an impressive 73.4 hp and 50 lb-ft of torque. While this power output exceeds many bikes in its class, it ensures that the R7 offers an exhilarating riding experience that never fails to captivate.
Honda CBR500 R – $7,299
The Honda CBR500 is a beginner-friendly bike with a larger displacement compared to many other options. However, Honda has intentionally designed it to be approachable and not overly powerful. In true Honda fashion, the CBR500 offers a neutral and balanced ride, prioritizing safety and reliability. While some riders may find it bordering on the side of being less exhilarating, aftermarket parts can be added to enhance its performance and make it more thrilling for those seeking an adrenaline rush.
The CBR500 provides ample legroom, making it suitable for riders with larger statures. It offers enhanced power and stability, particularly on the freeway, without compromising maneuverability. Its diamond-shaped steel-tube frame, connected to the engine through four mounts, ensures a sturdy foundation for exceptional handling and a thrilling riding experience. Equipped with a responsive twin-cylinder engine, the CBR500R delivers abundant torque and a high-revving performance. This powertrain design allows Honda to create a narrow and agile bike, further enhancing its maneuvering capabilities.
Kawasaki Ninja 400 – $5,899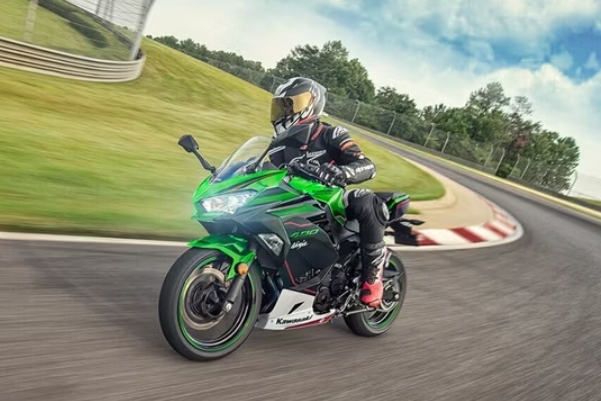 Fresh from the dealership, the Ninja 250 and 300 are no longer available as Kawasaki introduced the Ninja 400 in 2018 as their successor. Over time, the Ninja 400 has become widely regarded as an entry-level model by many riders.
With notable updates, such as a fairing design inspired by the H2 and ZX-10R, the Ninja 400 sets itself apart from its predecessors. Despite its advancements, the Ninja 400 remains an excellent choice for beginners, thanks to its lightweight construction, low seat height, and user-friendly handling. It provides a balanced power output, comfortable ergonomics, impressive performance in its class, and a smooth, controllable ride that appeals to both novice and seasoned riders.
Kawasaki ZX4RR – $9,699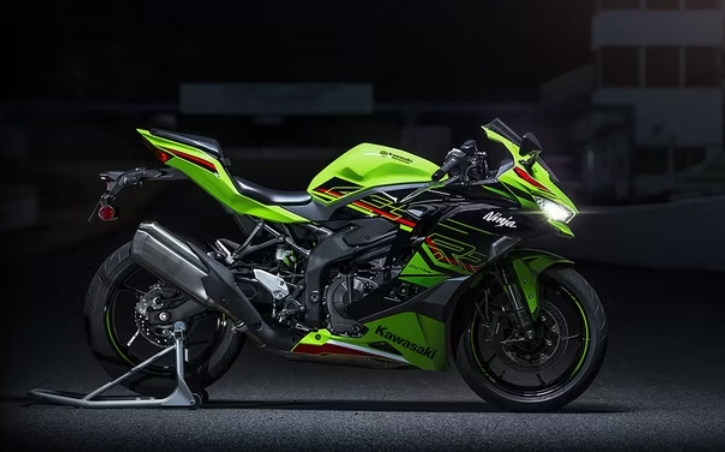 Introducing the ZX-4RR, Kawasaki's latest addition to their sport bike lineup. This remarkable motorcycle features a groundbreaking 399cc inline-four-cylinder engine, delivering exceptional performance that surpasses its class. With a compact chassis, the ZX-4RR ensures agile handling and a thrilling riding experience. Its powerful engine provides unparalleled strength, an exhilarating high rpm range, and precise control. Despite its impressive power, the ZX-4RR strikes a perfect balance, offering both nimble maneuverability for everyday road riding and the dynamic handling of a supersport machine on the track. Kawasaki equips the ZX-4RR with cutting-edge electronics, enhancing rider confidence in various riding scenarios. Prepare to be captivated by the unrivaled performance and advanced features of the ZX-4RR.
Kawasaki Ninja 650 – $7,899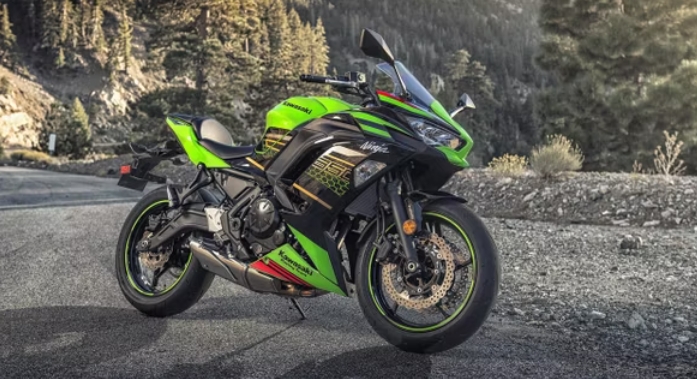 Similar to the Yamaha YZF-R7 and Honda CBR650R, the Kawasaki Ninja 650 is an excellent option for taller beginner riders seeking a larger motorcycle with added confidence. It's also an ideal choice for those who prefer a bike that will serve them well without the need for an immediate upgrade. With its sporty aesthetics, the Ninja 650 resembles a true sport bike, and its stable handling further enhances the riding experience. Unlike its more aggressive counterparts, the Ninja 650 features a more upright seating position, ensuring greater comfort and suitability for taller riders.
Aprilia RS 660 – $11,499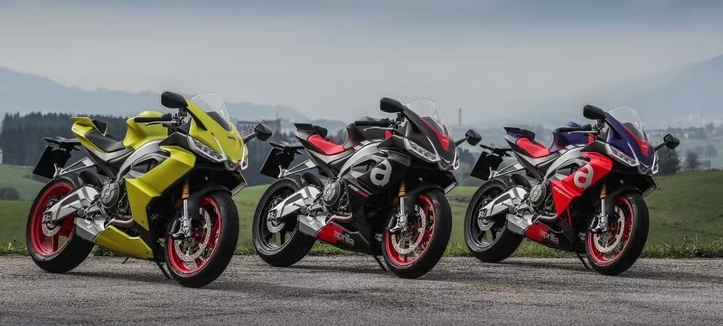 Aprilia, renowned for its captivating motorcycles, introduces the RS 660 as its latest offering. This sport bike boasts enhanced high-speed stability, captivating design, and an exhilarating riding experience. The RS 660 is available in various color options and configurations. Notably, there is a beginner-friendly version with 46.9 hp, perfect for those starting their riding journey. For those seeking more power, the RS 660 features a 650cc engine delivering 98.6 hp and 49.4 lb-ft of torque, ensuring a thrilling and enjoyable ride.