At the beginning of this year, Kawasaki expanded its Versys 1000 range with the "standard" model. This brings the total number of different versions to three. This spread of gear means there's a Versys 1000 for everyone! The highly popular Adventure Touring trio will receive new colorways for model year 2023.
The success of the Versys 1000 lies in its unique concept; an Adventure Tourer aimed at street use with a highly refined 1,043 cc four-in-line engine. The engine delivers its 120 hp and 102 Nm of torque so smoothly that long distances pass unnoticed. In the sportier corners, the Versys inspires a lot of confidence, taking advantage of its long suspension travel and 17-inch wheels. By focusing on street use, rather than a compromise between off- and on-road use, the Versys 1000 has best-in-class handling. Add to this the very well thought out ergonomic package, with a lot of wind protection and seating comfort for rider and passenger, and it quickly becomes clear why the Versys 1000 is so popular.
Versys 1000
Earlier this year, Kawasaki introduced the Versys 1000 "standard". This very attractively priced model is the perfect basis for riders to add accessories that are important to them. Despite the fact that this is the entry-level model, it is equipped with Cruise Control, Traction Control, Cornering Management, adjustable windscreen and a centerstand.
Versys 1000 S
The Versys 1000 S is very richly equipped as standard with an Up/Down Quick Shifter, beautiful TFT display with Bluetooth connection, a 12V connection, heated grips, handguards, cornering lights and Kawasaki's unique High Durable Paint.
Versys 1000 SE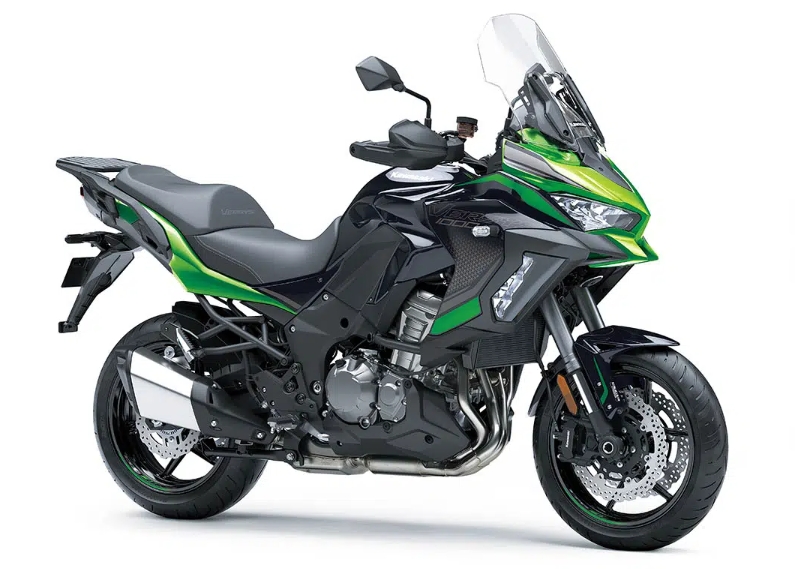 The high-end Versys 1000 SE goes one step further with semi-active electronic suspension with Showa Skyhook technology and is the most advanced motorcycle in its segment. The electronic suspension continuously adapts to the road conditions. This further improves driving behavior and increases comfort.
The 2023 Versys 1000, Versys 1000 S and Versys 1000SE are available from December in the colors:
Versys 1000 | Metallic Matte Graphenesteel Gray New
Versys 1000 S/SE | Emerald Blazed Green
Versys 1000 S/SE | Metallic Matte Sovereign Red New
Prices will be announced later.